Orbitrack Updates: Goodbye Iridium, Hello Starlink!
During this intense time of change, we've been hard at work improving our Orbitrack satellite tracking apps for iOS and Android. We're now ready to share them with you. The latest Orbitrack app updates reflect the changes that have been taking place in our skies over the past few months: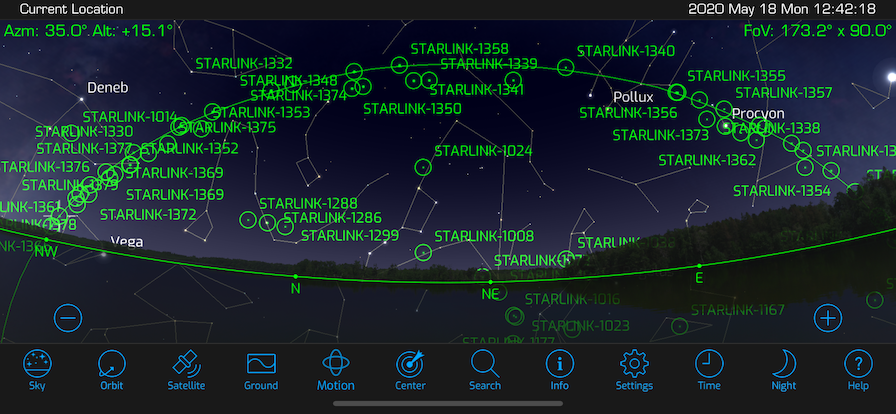 Orbitrack now updates its satellite data every hour, to keep up with the rapid orbital maneuvers and new launches in SpaceX's Starlink communications satellite constellation.
As Iridium de-orbits its Block-1 satellite constellation, Iridium Flares have become a thing of the past, so Orbitrack's Iridium Flare prediction feature has been removed.
We've added a few feature tweaks and fixed a few bugs that you have reported as well!
The latest updates to Orbitrack are version 2.4 for iOS and version 2.1 for Android. They're free for current Orbitrack owners. A new app purchase is just USD $4.99 on the App Store or Google Play.
SpaceX is launching a new group of 60 Starlink satellites as early as Sunday, May 17th.  Next week should be an excellent opportunity for sky-watchers to see these new "birds" take flight – and Orbitrack can help you find them.
We hope that you and your loved ones are staying safe and healhy in these challenging times. As difficult as things are on the ground right now, exciting changes are happening in our skies. If nothing else, watching them unfold is a great distraction … and a lot of fun.
Keep looking up.